Life Fitness T5 Treadmill with Track Connect Console (T5-Track Connect)
Request Quote
Built for unmatched customization, the T5 Treadmill allows you to train your way through adjustable running terrains and personalized workout programs. The T5 is designed specifically for the home—aesthetically pleasing, quiet and simple. Let the T5 recall preferred walk, jog or run speeds, as well as pre-programmed or customized workouts, all at a push of a button. Discover why the T5 stands alone as the premium provider of the personalized training experience. The Track Connect Console offers engaging interaction with entertainment and workout options to keep you motivated. It has the tools that provide an engaging home workout experience that makes it easier to reach your workout goals.
Description
The T5 Treadmill allows you to train on three different running surface firmness settings thanks to the FlexDeck Select system. The intuitive treadmill recalls your preferred walk, jog and run speeds, and it lets you choose from dozens of other programs — all at the touch of a button.
HEART RATE MONITORING
Contact heart rate hand sensors and wireless telemetry heart rate monitoring system
USER FRIENDLY DESIGN
Two removable, dishwasher-safe cup holders and an integrated smartphone/tablet holder, which also serves as a reading rack, provide added convenience
QUICK START
Remembers your prefered walk, jog and run speeds, as well as three different incline positions
FLEXDECK SELECT SHOCK ABSORPTION
The FlexDeck Select shock absorption system lets you choose between three running surface firmness settings to simulate your preferred running terrain.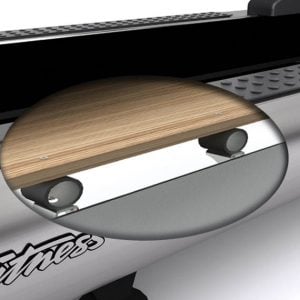 Console Display
TRACK CONNECT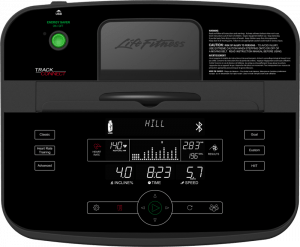 CONNECTED EXPERIENCE
Enable Bluetooth on your mobile device to push data to a growing list of partner apps. Sync with Nike ®, Garmin® and MyFitnessPal® through Wahoo's RunFit; and to Apple® Health, Jawbone™ and Fitbit® by enabling proximity login on the LFconnect app. Or, connect to interactive apps like RunSocial for an engaging workout experience.
DUAL-ZONE DESIGN
ENTERTAINMENT ZONE
Placed at eye level for an ideal viewing experience. The compression rack securely holds all smartphones and tablets, even those with a protective case.
WORKOUT ZONE
The lower half of the console offers convenient workout setup and in-workout control. It features capacitive touch keys that illuminate when usable and dim when not in use.
WORKOUT CHALLENGES
Capacitive touch keys allow instant access to HIIT, custom, goal-based and other challenging workouts.
TRACKING
After logging in, exercisers can create a profile and then track their progress and workouts.